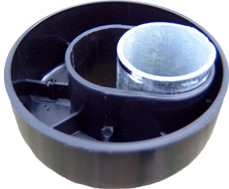 Do you want to build straighter vinyl fences faster & cheaper?
What you've been looking
for is a Post Pro.
POST PRO
Vinyl Fence Installers
Post Pro is the best pipe-to-post installation system on the market. By using the Post Pro, you can eliminate concrete and mount your posts on steel.
Are you wasting time and money with inferior adapters?
Whether you're a fabricator, contractor or do-it-yourselfer, buy the Post Pro, direct from the manufacturer—the best adapter on the market.
You may know it as a post collar, post socket, post adapter, post locator, pipe-to-post connector, donut, or even a whatchamacallit, gizmo or "that black thing over there."
All you have to remember is: Post Pro.
The Rail-Lock
Also see our unique
method of securing rails
Unique Endeavors designed, developed and improved the Post Pro system from customer input and industry demand.
Store Location
350 Transport Road
Sunnyside, Manitoba
R5R 0J5